16 Week Isabody Challenge Finalist
We met with Jason at a recent conference in Las Vegas, Nevada where Jason was featured on stage with a handful of other finalists out of tens of thousands of entries. This competition is called The Isabody Challenge. It's free to enter. By completing the 16-week challenge and following the instructions. (Which are quite easy to follow, (I might add) you will be awarded $200 upon completion which can be used as a product coupon. But if your entry is impactful and you kick ass during your challenge. You could be awarded an honorable mention or a Finalist. The perks are crazy and that's an extra $3000 US in your pocket. Not bad for looking and feeling your best. As well a free-to-enter challenge.
Here is Jason's Story.
With a degree in kinesiology and a lifelong passion for sports and fitness, Jason Snider had always kept health as a priority in his life.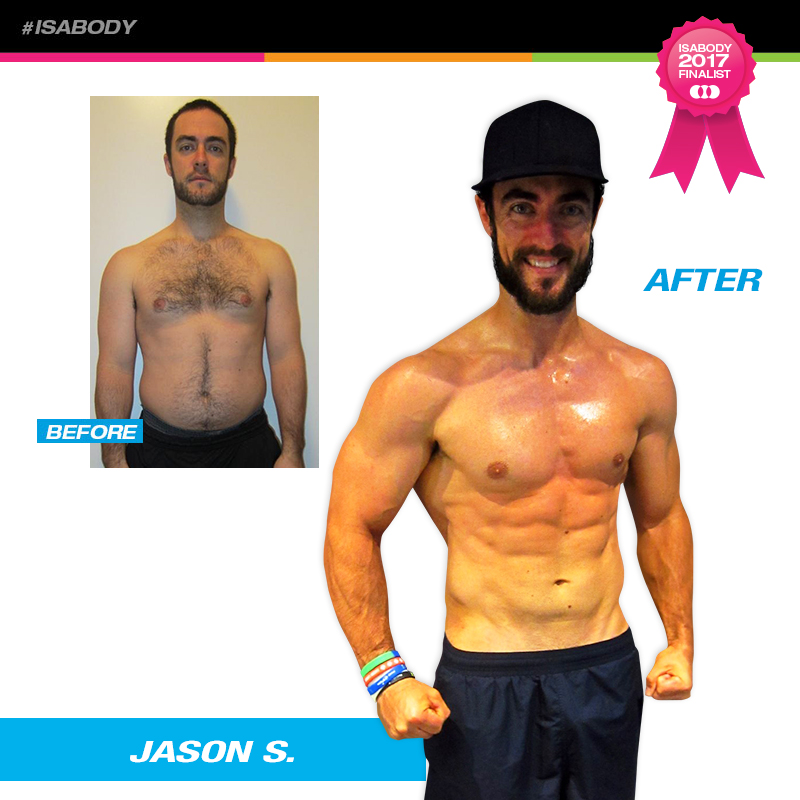 But when he started his new career as a math and physical education teacher, purchased a new house, and became a father, the stress and busy schedule impacted his health negatively. He would often come home from work tired and stressed, grab a beer and some food, watch TV all evening, and crash out on the couch.
"I had no energy at all and really little motivation to exercise," Jason says. "Even when I was teaching gym classes, I was grumpy. I don't think I was a great role model for my students at that time."
Taking a Chance on Isagenix
When Sarah was introduced to Isagenix by a friend, both she and Jason were skeptical. They believed in consuming a whole foods diet and were concerned about using the products.
While still on the fence, Jason and Sarah couldn't deny the great results their friend was seeing with the products. They finally decided to take a chance on Isagenix after six months of researching and asking friends in the health field about Isagenix.
When their products finally arrived, Sarah was pregnant with their second child and was still breastfeeding their daughter, so she suggested Jason try out the system.
"I like to use the word 'volun-told,'" Jason says. "She 'volun-told' me that I would do the nutritional cleansing system. And looking back, I thought I was still in pretty good shape, but now I look at the 'before' pictures, and compared to where I am now, I was not."
Gaining Health and Happiness
Shortly after incorporating Isagenix products into his daily routine, Jason began to feel and see results.
"The biggest thing was getting my energy back," Jason says. "Holy smokes! It was like a lightbulb went off. I went from being lethargic to actually feeling good, and I realized this was how I was supposed to feel."
Committed to his health and transformation, Jason enrolled in the IsaBody Challenge®. He decided to get back into an exercise routine and started out in his home gym. Three times a week, Jason would complete a 25-minute TRX full-body workout DVD, have a shake for breakfast, and head off to work.
On January 1, 2015, when Jason began his fourth IsaBody Challenge, he committed to a new exercise program. He worked out seven days a week from home and really focused on his nutrition. His workouts were high-intensity and only 30 minutes per day. After those 16 weeks, Jason felt he had reached a high point in his fitness level and was named an IsaBody Challenge Honorable Mention.
Setting his sights on becoming an IsaBody™ Finalist, Jason continued pressing forward, trying to find ways to improve his results. The introduction of the AMPED™ line was a pivotal point for him. With these revolutionary products, Jason was able to push himself even harder and kept using the IsaBody Challenge as a tool to work toward improving his overall health.
"Workouts are so much more intense. You can just train that much harder and keep setting bigger and better goals," Jason says.
After an incredible eight IsaBody Challenges, Jason is in the best shape of his life! He was able to release 17 pounds* and gain an impressive amount of lean muscle.
Success Through Small, Daily Actions
Becoming an IsaBody Finalist has been on Jason's vision board since he began his IsaBody journey. He attributes reaching his goal to focusing on the small, daily actions that add up.
"So many people are shortsighted…whether it's fitness or financial, and they feel like they've plateaued," Jason says. "But then at a certain point, the small, daily actions you do consistently over time add up to absolutely massive results."
Jason plans to use this same philosophy as he looks to his future with his family and Isagenix. With the unexpected, happy surprise of their third child, Jason has set a goal to retire from teaching to pursue his Isagenix business full time. He hopes to have the flexibility to be at home with his family as much as possible.
Everything in our testimonials are shot with:
– GO Pro Hero 5
– Go Pro 3 way Tripod
– Blue Yeti Professional Microphone
– Edited with Final Cut Pro
To find Jason:
Jason Snider
FACEBOOK
INSTAGRAM
MUSIC:
Artist: Elias Naslin
Track: Between the Lines (Ahlstrom Remix)
(From Epidemic Sound, Royalty Free) http://epidemicsound.com
For another story just like this one, listen to how a marathon runner overcame her fears and beat her personal Best: HERE