At easter with my family, my cousin Kristina suggested that I watch two movies on Netflix. One was Exhibition Happiness & the other, Minimalism. I can get into Exhibition Happiness in another post but this post is all about the Minimalists.
First, it's about 2 guys, Joshua Fields Millburn & Ryan Nicodemus. They've both known each other since grade 5 in Ohio, Joshua then moved to Montana, then onto Los Angeles, because he says "That's where people go to tell stories". Ryan's story is pretty much the same. Inseparable, the two of them.
The documentary on Netflix is about these two guys on their book tour promoting their book. City by city, town by town. They started off going to conferences at South by Southwest. Having a handful of attendees. But they said that was completely ok because they are helping people one person at a time. Everywhere they go, they help people, one person, at a time, one hug at a time. Yes, they would rather give a person a hug, then a handshake. These guys are sounding more and more like my kind of guys.
To sum up minimalism in their words they said, "Minimalists don't focus on having less, less, less. We focus on making room for more: more time, more passion, more creativity, more experiences, more contribution, more contentment, more freedom. Clearing the clutter from life's path helps us make that room."
The first few minutes of the documentary, sum it up perfectly. People live paycheque to paycheque because they spend all their money on things they don't really need. Let that sit with you a bit. Think about it. How many things of one object do you have? or do you need? You're going out and doing some retail therapy, you buy that great dress. You wear it out with the girls while having a few glasses of wine. After the night is over, you hang it up. Not to wear it again for a while. How many of those dresses do you have?
In the documentary, they mention other people that are practicing Minimalism. They had mentioned "Project 333". I wrote it down as I always do, so I don't get distracted and move on to the next thing. So once the documentary was finished, I jumped over to my computer to do some research.
Courtney Carver first wrote about dressing with less and Project 333 for the first time in 2010, She had no idea that people from around the world would write about their experience and thousands would accept the challenge. The idea was simple. But it took the world by storm.
Project 333 was featured in Unclutter Your Life by the Associated Press, on The Today Show website: Today.com, in the March 2014 issue of O, The Oprah Magazine and in the BBC article, The Paradox of Stuff. It's not rocket science but it makes complete sense.
So that's why I've said yes to accepting the challenge.
It's simple really. Pick out 33 items including clothing, accessories, jewelry, outerwear, and shoes.
These items are not counted as part of the 33 items – wedding ring or another sentimental piece of jewelry that you never take off, underwear, sleepwear, in-home lounge wear, and workout clothing. (you can only wear your workout clothing to workout) But you don't need a wardrobe full of workout clothing if your only going to the gym 3-5 times a week.
Now choose your 33 items, box up the remainder of your fashion statement, seal it with tape and put it out of sight. Now keep in mind, 33 items per 3 months. This is a seasonal challenge. Pack up the winter coats in the summer months. Consider that you are creating a wardrobe that you can live, work and play in for three months. Remember that this is not a project in suffering. If your clothes don't fit or are in poor condition, replace them.
For the exact rules for Project 333, click HERE
As I mentioned in the video, this really resonated with me. Looking at my wardrobe, I had a lot of stuff that I rarely wore. Crushed velvet blazers, hockey jerseys and multiple dress shirts, jeans and shoes. I am a firm believer in helping those less fortunate than myself. Giving 100% and not expecting anything in return. The next adventure was to go through my closet and start packing up things.
3 garbage bags later, my closet looks a lot more organized. But I didn't stop there. I started to look at fitness equipment, camping gear, and household items.
To watch the video on YOUTUBE click HERE
To SUBSCRIBE to us on youtube click HERE
So back to the Joshua and Ryan, it all started with a lingering discontent. Nearly a decade ago, while approaching age 30, we had achieved everything that was supposed to make us happy: six-figure careers, luxury cars, oversized houses, and all the stuff to clutter every corner of our consumer-driven lifestyles.
And yet with all that stuff, they weren't satisfied. There was a gaping void, and working 80 hours a week just to buy more stuff didn't fill the void. It only brought more debt, stress, anxiety, fear, loneliness, guilt, overwhelm, and depression.
What's worse, they didn't have control of their time, and thus they didn't control their own lives. So, in 2009, they took back control using the principles of minimalism to focus on what's important.
Since starting their website in 2010, they've been fortunate enough to establish an audience of more than 20 million people, and "The Minimalists" have been featured throughout the media. They have spoken at Harvard Business School, Apple, Google, and SXSW. They've also been featured on The Today Show, as explained in the documentary. Things have really blossomed for them, but I don't want to give it all away.
That is what the documentary is for. You can watch it HERE
If you would like to learn more about their books: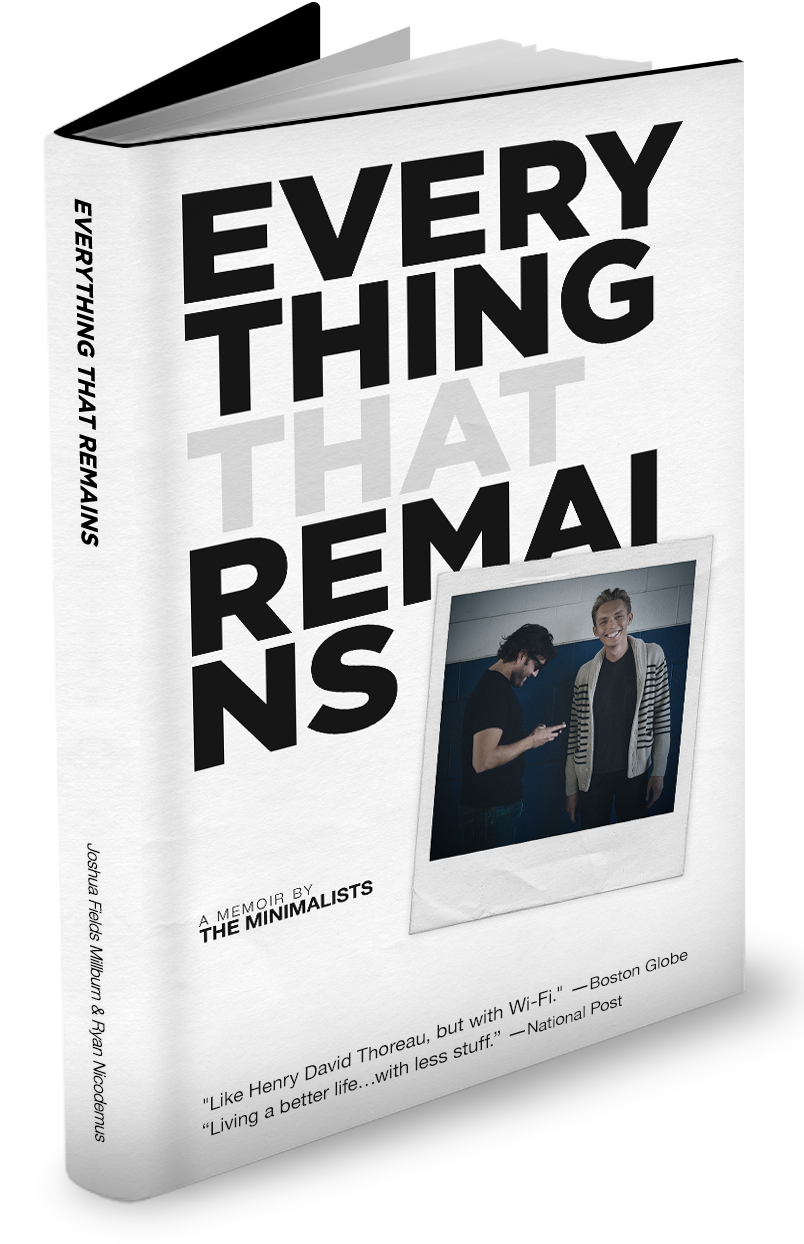 #1 BestsellerThe touching, surprising story of what happened when one young man let go of everything and began living more deliberately.
"Like Henry David Thoreau, but with Wi-Fi." —Boston Globe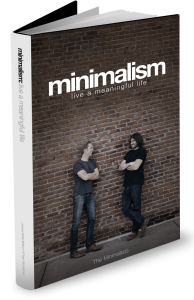 At age 30, best friends Joshua & Ryan walked away from their six-figure corporate careers, jettisoned most of their material possessions, and started focusing on what's truly important."Minimalism has brought happiness to [these] two former executives." —Vancouver Sun